Beer Review: Green Flash Rayon Vert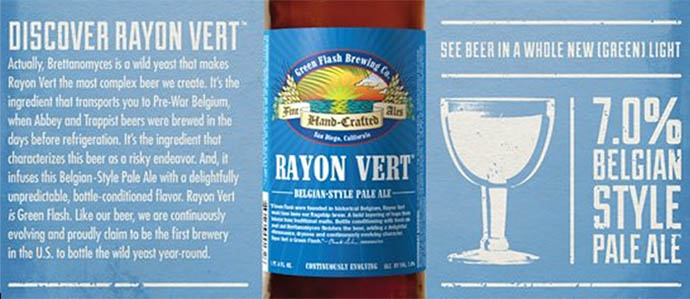 Some beers are considered to be in a class all their own, sui generis. One example is Orval, which is a classic, Trappist-brewed Belgian pale ale, bottle conditioned with Brettanomyces yeast. Many individuals try to replicate this historic brew at home through various recipes with varying degrees of success. Commercial micro-breweries also try to close in on the unique style, and one such attempt is Rayon Vert, a Belgian pale ale from San Diego, CA-based Green Flash Brewing Co. Of course, "rayon vert" translates directly to "green flash" and the company states on its website: "If Green Flash were founded in historical Belgium, this would be our flagship beer."

Poured from an embossed 12-oz. bottle, Rayon Vert is everything the brewery promises in appearance and aroma. A golden brew with active carbonation and a foamy white head appears in the glass. The aroma is dry, with a slight barnyard funk and biscuity yeast scent, followed by a hint of floral hops. Rayon Vert does not disappoint in taste either, providing a strong, interesting "Brett" character — dry funk and effervescence with a delicious hop finish. For its 7% ABV, the beer goes down easily, and provides an enjoyably complex drinking experience.

Green Flash Brewing's ode to Belgian pale ale is a remarkably satisfying American craft beer. As this beer is bottle conditioned with two distinct yeast strains, Rayon Vert will provide a different sip each time you open a bottle. The brew has wide distribution, so snag a couple and try one now, then cellar another for a few months to see how the flavors and qualities develop over time.
Recent Articles

Feedback
How are we doing? Tell us what you like or don't like and how we can improve. We would love to hear your thoughts!