Beer Review: Innis & Gunn Independence Day 2012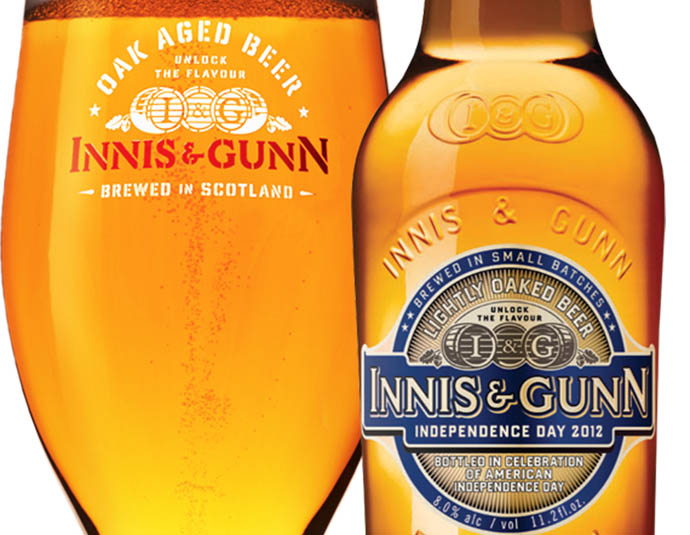 Scottish brewery Innis & Gunn's newly launched limited-release Independence Day 2012 beer is as much a tribute to its homeland as it is to America. Brewed to honor our Yankee holiday — much as its older sister, Canada Day 2012 was brewed to celebrate that nation's founding — Independence Day marketing highlights the myriad connections between our founding patriots and the isles of Scotland.
To wit: according to the brewery's press materials, the parents of Uncle Sam himself — Samuel Wilson, who gained fame by supplying meat to the U.S. forces during the War of 1812 in barrels marked "U.S." — were Scotsmen. Plus, 21 of the 56 signers of the Declaration of Independence had Scottish lineage, and two sailed over from the Old Country directly. Furthermore, there are 30 million Scottish Americans living in this country today, and Innis & Gunn is grateful to them (as well as the rest of us) for providing the American oak barrels the brewery uses to age all of its beers.
And that brings us back to this one, which seems more about the story than the actual liquid. There's no style listed on the beer's packaging, webpage or press release, so it was left the folks at the brew review sites to label it a Scottish Ale, which — barring any other discernible category — we suppose it is. Rich copper in color, the "lightly oaked beer" pours with minimal head and a penny-like scent. The flavor is extremely biscuity, with a pungent-yet-round sweetness, a provocative vanilla and wet oak sheath and a mild bitterness, vaguely evocative of pine forest hops. The brewer describes the taste as "light and fruity with notes of candied apple and marzipan," (however, not picking up any almond or apple, we can't really concur).
The continued description does apply to the mouthfeel: "It satisfies thirst but also has a full and rounded flavor." True. You could easily drink this before watching fireworks and appreciate its refinement (though it does pack a punch at 8% ABV), as well as the Scottish heritage, which evidently made so many contributions to the birth of our own nation, and allows us to partake in the yearly summer festival that is Independence Day.
Recent Articles

Feedback
How are we doing? Tell us what you like or don't like and how we can improve. We would love to hear your thoughts!