Beer Review: BridgePort Stumptown Tart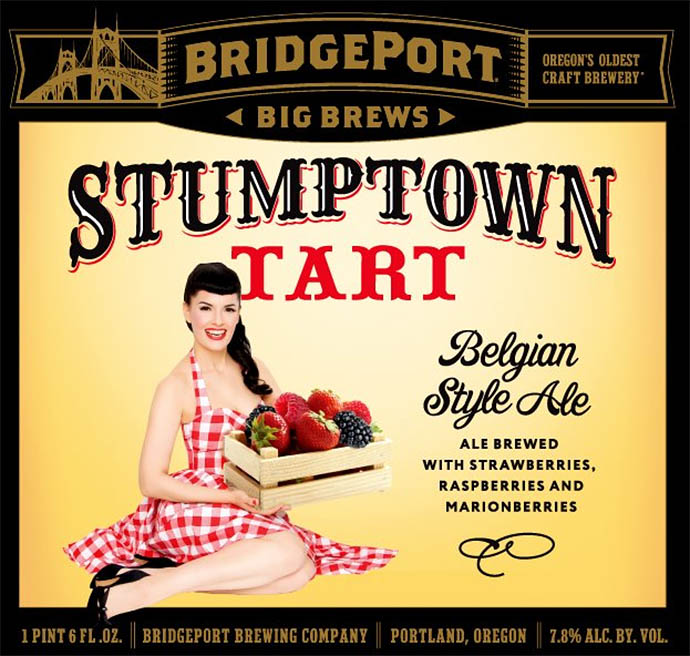 OBF. Say those three awesome letters to just about anyone 'round here and watch as a huge grin overtakes their face as they start daydreaming about that rite of summer at the end of July: the Oregon Brewers Festival, now in its 25th year. But this year, for a tradition dating all the way back to 2011, OBF also stands for Oregon Berry Festival. Luckily the two don't overlap, but for those who'd like to get a sense of what it would taste like to attend both simultaneously there's BridgePort's Stumptown Tart, brewed with strawberries, raspberries and marionberries.

Now in its fifth iteration (each year a different fruit is chosen to enhance this Belgian-style ale), Stumptown Tart is a mélange of three Oregon-grown berries. And it's not a mere suggestion of fruit either. There are 15 lbs. of berries per barrel (that's about a pound of juicy berries per gallon of beer).

The beer pours an orange-pinkish hue, like a cloudy sky at sunset, and immediately introduces itself with the aroma of a berry patch. This is not a beer where the hops do any heavy lifting. However, it doesn't taste syrupy or like drinking a mixed berry punch, thanks to spiciness from the Belgian yeast and high carbonation, which keeps the berries from coating your tongue. Be careful — this very easy-drinking beer packs nearly 8% alcohol by volume. Then again, that percentage is less than wine or champagne with some berries floating in it, so go for it — have an extra glass paired with fruit salad and/or dessert at the rest of your summer cookouts.

As for dueling OBFs, the berry fest is July 20–21 at The Ecotrust and the beer fest is July 26–29 at Tom McCall Waterfront Park. It will boast considerably larger crowds and yes, Stumptown Tart will be on tap.
Recent Articles

Feedback
How are we doing? Tell us what you like or don't like and how we can improve. We would love to hear your thoughts!