Open Door Cellars: High-End, Easy-Drinking Boxed Wine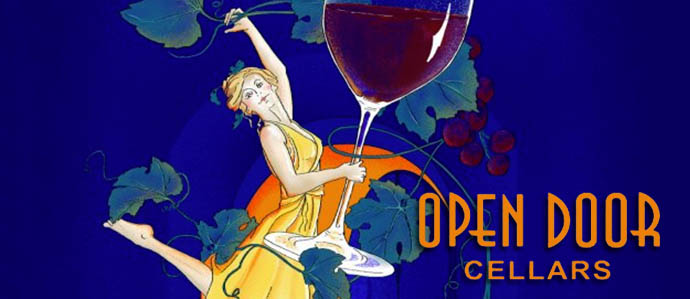 Wine in a box is nothing new. And I've admitted it before on this site: there were stashes of a certain classic in a white box in my apartment almost continually during the college years. We had good reason to be true to the box; it was hard to beat the price, the convenience, and the shelf life. At that age, I wasn't really looking for quality, which was probably a good thing because those mega-boxes of the past were full of glorified grape juice that had the ability to cause headaches no bottle of Advil could conquer.

Thankfully, I am able to include the word "past" in the above sentence. Box wines have come a long way, and it seems every year more vintners are entering this daring new world. Last year we showcased the trend for you as it lead to a new level of selection in area stores, but just this spring another hit the market, one from a MidAtlantic company. We decided to meet this newcomer with open arms and an empty glass.


Open Door Cellars is the result of friends and co-workers Michael Fishman and Greg Rochlinco, who own Quarry Wine & Spirits in Baltimore. Familiar with current wine selections and the tastes of their customers, they decided there was a need for a new name on the shelf and set out to create it. The resulting product combines the benefits of a box — freshness, convenience, value, and green production — with grapes from California selected to create wines with classic flavors consumers will recognize and enjoy. As the website says, flavors that are "true to the grape."

Currently, Open Door offers Merlot, Chardonnay, and Cabernet Sauvignon, and so I arrived home one afternoon and set my boxes of Merlot and Chardonnay on the kitchen island. Super compact, it was hard to believe that three-bottles-worth of wine was hiding inside. The red I slid cozily into a corner by the knife block, the white I tucked into the fridge in a space I never would have been able to fit just one bottle. First test: passed.

When it came time to tap, I started having flashbacks to college and how we would frequently open boxes over the bathroom sink in an effort to keep the landlord's precious hardwoods from staining and simultaneously eliminating our security deposit. So I handed the red to my husband and covered my eyes. Thankfully, with time comes improvement, and this box wasn't only easy to open, it was totally drip-free. Over the course of two weeks no matter how much I poured or what angle I held it at, I never saw a rogue drop escape.

Of course, the most challenging test was yet to come: the tasting. The Merlot was soft. Really soft. Like fluffy pillows of raspberry in the face. Very light and jammy, it was a surprising change from the reds I typically opt for. Not a tannin in sight, it was smooth and a little sweet. While it wasn't complex or even multi-note, it was easy to drink and a good option for those who are scared of deeper reds.

The Chardonnay threw me for a loop. I'm typically not a fan of oaked whites, so when I poured my first glass I was almost bracing myself for the bright straw-gold color and toasty aroma that so many "typical" California Chardonnays employ. But the wine was a much lighter hue and the nose was sweet and a little floral. The sip surprised me too — instead of the sometimes harsh oak and acidic apple I've come to know, this wine was demure. Melon flavors took the stage, with no tartness or acid to be seen. I joked that I could chug it if dared, and I honestly could have (though I definitely do not advise such behavior, for multiple reasons).

Wine drinkers who like their vino approachable and light will find a great match with this brand, since the makers have apparently tried hard to design a blend that doesn't offend any potential drinker. However, that process mutes some of the most traditional aspects of the grapes, and die-hard fans of certain varieties may be find these lacking in the result. It's like taking an R-rated movie and remixing it for a PG rating: more people can enjoy the product, but it's missing some of the details that made it great in the first place.

Open Door Cellars' wines are available in select stores in Washington, D.C, Maryland, and Baltimore.
Photos via Open Door Cellars on Facebook
Recent Articles

Feedback
How are we doing? Tell us what you like or don't like and how we can improve. We would love to hear your thoughts!